Benefits of coconut in your diet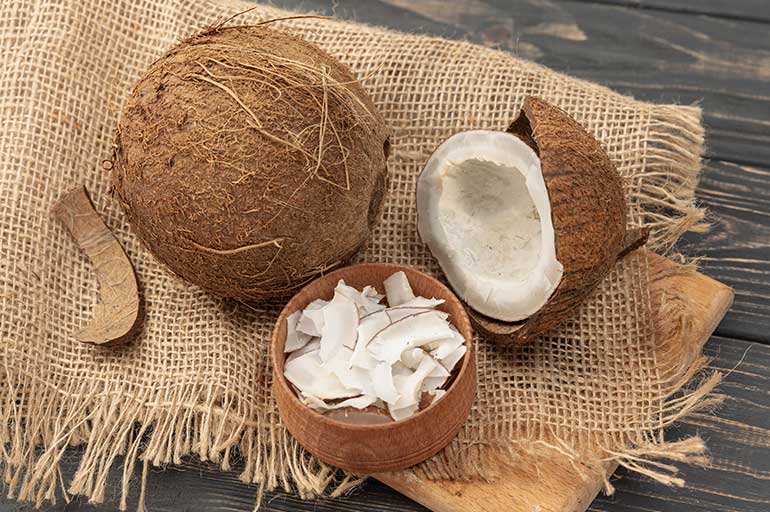 The coconut has been fondly dubbed as the swiss army knife of the plant kingdom. This high-calorie, liquid-filled, three-in-one fruit, nut and seed combination is useful for a large variety of tasks. This diversity and usefulness is the reason why the coconut has been a staple of Indian diets and households since ancient times. Whether you relish sipping on coconut water on a hot day or savouring some delicious coconut laddus during festivals, here are some benefits of coconuts that will make you wonder why it isn't classified as a superfood yet!
Improves skin health
Coconuts are filled with powerful antioxidants that help protect cells from oxidative damage. Antioxidants generally contain anti-inflammatory properties and give your skin a natural and youthful look. They help repair cell damage and bring down inflammation in the face or other parts of the body. They have also been known to help fight against the harmful rays of the sun and avoid sunburn. These are simply the benefits you get from consuming coconuts, there are many benefits to applying coconut oil to your skin and scalp as well. Applying coconut oil to your skin will have similar benefits as consuming it, giving your skin a natural and youthful look. You can also apply coconut oil directly to your scalp and avoid lice, dandruff and an itchy scalp.
Enhances weight loss
Coconut milk contains medium-chain triglycerides (MCTs), which has been linked to weight loss and reducing waist size. MCTs help in burning fat, detoxifying your body and even regulating and balancing unstable gut microbiota. It is a diverse food item that can be fried, baked, roasted and even used as a sprinkle on top of your meal. Its weight loss enhancing properties give it the ability to stand as a substitute for potato chips and tortilla chips as a much more healthy snack alternative.
Ensures healthy teeth and bones
Eating coconut provides your body with the ability to absorb manganese and calcium, which is vital for bone development and can also prevent osteoporosis. The lauric acid in coconuts help fight against fungi, viruses and bacteria and keep infections at bay.
Being suCh a diverse and yet healthy food item, you can experiment with as many coconut dishes as you want without getting tired of this ingredient or running out of healthy snack ideas. For more tasty and healthy snacks that you can order online, check out what is on offer at DIP Foods and understand that tasty and healthy can work together hand-in-hand.