Three More Healthy Meal Replacement Smoothies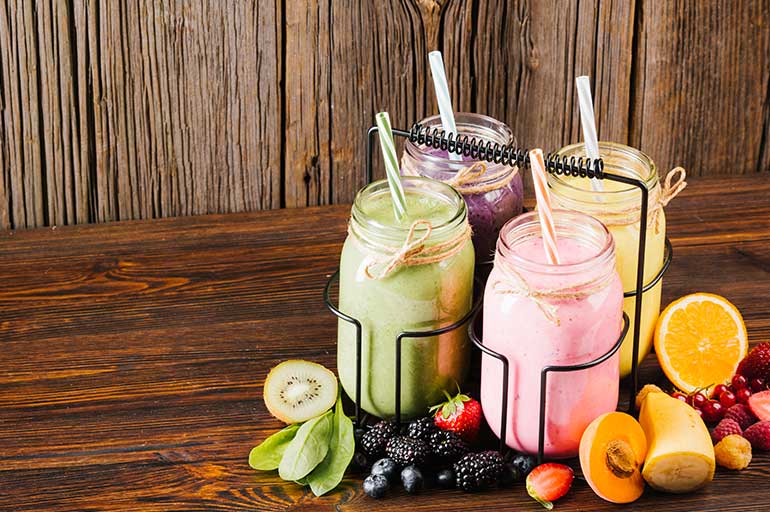 A smoothie is a meal in and of itself, and can be consumed on the go, and at any time. A popular replacement for lunchtime meals, smoothies have the unique ability to be both a healthy meal supplement, and a delicious indulgence. After all, healthy snacks don't always have to be boring. Check out this list of mouth-watering, health forward meal-replacement smoothie recipes that are sure to leave you energised and satisfied!
Spinach and Berry Smoothie
Ingredients:
1/2 cup unflavoured Greek Yogurt

1/2 cup frozen blueberries

1/2 cup frozen cranberries

1/2 cup frozen strawberries

1/2 frozen banana

1-2 large handfuls spinach

1/2-1 cup water
Packed with the fruity goodness of blueberries, cranberries and strawberries, this tasty smoothie blend is fortified with proteins and vitamins to keep you going through the day. Pro tip: frozen berries make for better smoothies. Blend these together with the other ingredients first, and add ice to the mix once thickened.
The Energy Booster Smoothie
Ingredients:
2 tbsp cocoa powder

2 tbsp peanut butter

8 oz Greek yogurt

1/2 cup ice

1 banana

A pinch of cinnamon
This smoothie is packed with ingredients to give you that extra kick of energy you so desperately need before a long day of work. A tantalising mix for peanut butter, cocoa powder, bananas, cinnamon and more, count on this recipe to knock the Monday blues out of your system!
Coconut Milk and Blueberry Smoothie
Ingredients:
½ cup fresh strawberries

½ cup plain coconut milk

1 tsp honey

1 tsp lemon juice
If you're looking to cut down on that belly, coconut milk is the right choice for you. Combine with fresh, delicious blueberries for the perfect refreshing smoothie that is perfect for any occasion.
There's no real right or wrong when making a smoothie, so be sure to experiment with your favourite flavours and ingredients for the smoothie-meal of your dreams. For a healthy mealtime snack, pair your smoothie with a selection of baked chips provided by DIP Foods. DIP Foods is an online food retailer that aims to provide consumers with healthy and tasty snacks. With products made with all-natural ingredients, DIP Foods is the perfect place to order snacks online.